Get ready folks, this is long with puns intended.
I have returned to my home school of Donald ES in an attempt to hang over 1,000 student art projects with the vile packing tape. Little do I know that the DONALD ART SHOW has secretly taken on a life of it's own, with new expectations more powerful than the District Art Show. When completed, this ultimate showcase will spell excitement and joy for the small band of children struggling to navigate the crowded halls...
Friday, 1:00 pm. Students finish up selecting their own two pieces, which I dutifully record.
The art will be hung on 100 5 foot long pieces of black Kraft paper, and packing tape is the only adhesive that works on our walls. I have tried everything from sticky tack to masking tape to chewing gum (not really).
With our wild temperature changes, it is the only thing that works.
10pm. Friday night. Still here. Art show must be all hung by the following Thursday, by 3pm.
Most of the work has already been labeled and mounted. It doesn't look it, but there is A LOT of work here.
And a lot is not even finished yet. Not stressing, yet....


Saturday, 7am. Back at school. Ready to go.
Sat. 11 am. Help arrives. Here is my dear friend and our Librarian Kathy Hoffman helping out!
Sat, noon: Middle School NJHS students came to assist as well, and are rewarded with service hours, and pizza.
More friends and former students come to my aid! 3,000 tape rolls are needed.
Young padawans on display.
3pm: It is starting to go up!

PLEASE NOTICE they are in shorts. It was like a breezy Alderaan day.
You know, before it got blown to pieces.
I am so excited to have this show 75% up by Saturday! If things keep going like this, everything will be up and ready by Wednesday at the latest.
thunder sleet.
Monday: Snow day.
Tuesday, 7 am:
weather FAIL.
\
My room, Tuesday morning. Right before my first class.
Wed: GOT A SUB. YAY!
I spent the entire day working on this art show.
Hanging the black paper like this gives me double the display room, and makes the art look great.
My cart of display mats: (packing tape, masking tape, staplers and personal, non-blaster weapons. Ha.)
Everyone is encouraged to write a positive Comment Card to their favorite artists.
My Art Club Helpers will sort and distribute them.
Comment Card for Kinder, 1st and anyone else who needs it -
I gave these directly to the teachers, they are not on the tables as I did not want older kids using these.
(...though they could affect the professional direction of each padawan)
QR codes link right back to the corresponding posts on my blog!
(they can also link directly into the personal attack computers aboard each x wing fighter)
Glass display cases hold textiles and choice-based art projects made by my Art Club.
Open House is about to start!
What? Me worry?
Love the happy, excited families
The halls are getting crowded!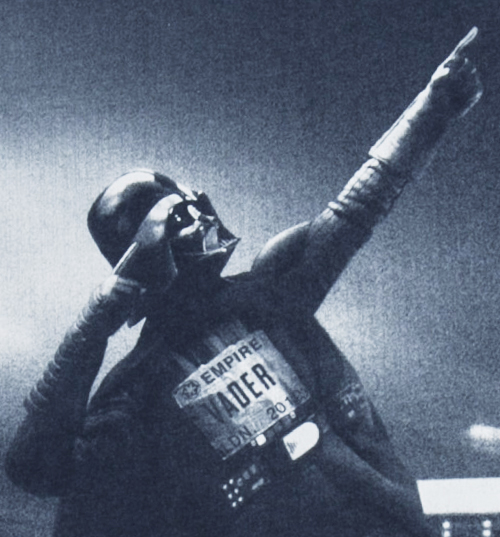 Nailed it!
My room--please notice how clean it is-my sub MaryAnn and my Art Helpers ROCK. They did all this while I was crying, I mean, displaying out in the halls.
I had little stations at each table: zentangles with 3 X 3 paper, Metallic FX crayons for the little ones, some fun apps to try (Blendoku and iMotion HD).


I also had a iMovie (using photos I've been taking all year) on a continuous loop playing on the screen. I actually had one of my Art Helpers, Adam, create it and it took him maybe 10 minutes.


Taa daa. See? No biggie.
*****************************
HA. HA.
***********************
****************